About Leipzig Book Fair
Leipzig Book Fair is the most important get-together in the spring for the book and media industry, connecting readers with authors, publishers and media companies from Germany and around the world. They all visit Leipzig to experience a diversity of literature, discover innovations and gain new perspectives.
Leipzig Book Fair covers a diverse range of topics and trends in fiction, non-fiction and specialist literature . There is a special focus on a single Guest of Honour each year. Focus Education presents the latest educational opportunities for all age groups, with a focus on literacy for the book fair's youngest visitors. The conference programme at Leipzig Book Fair provides opportunities for active participation and exchange through workshops and discussions for teachers, booksellers and authors.
Thanks to our unique connection with Leipzig liest , Europe's largest reading festival, Leipzig Book Fair draws many visitors each year. The Manga-Comic-Con (MCC) also takes place alongside Leipzig Book Fair.
Discover our thematic worlds
Literature
The Leipzig Book Fair is a place to make new literary discoveries. Up-and-coming authors and independent publishers offer insights into literature well beyond the mainstream. From fiction and non-fiction to fantasy literature, comics and graphic novels – the Leipzig Book Fair has a whole host of treats in store for literature fans. The Leipzig liest reading festival promises unique experiences, with readings scheduled at more than 550 venues at the trade fair and around the city. Leipzig liest offers literary seduction par excellence. Literary celebrities from Germany and beyond, newcomers, actors and pop stars cover the entire spectrum of the book market.
Children, youth and education
Literature is the best trigger for the imagination. With their fantastic tales, books for children and young people whisk their readers away to different worlds and inspire them to make new discoveries. The Children, youth and education thematic world offers plenty of adventures for younger visitors with more than 500 events: Meet new literary heroes and enjoy electrifying concerts. There are plenty of activities to take part in. Young literary fans can also meet the writers behind their favourite books and take a look behind the scenes of the creation process.
Music
The Leipzig Book Fair continues the city of Leipzig's great musical tradition. The exhibition area for music showcases innovations and creative developments within the industry.
autoren@leipzig
The book industry is undergoing fundamental changes: The reading experience is becoming more multifaceted and digital. Podcasts, audio books and eBooks are gaining more and more fans. As a result, the demands on authors and publishers are also changing. The tailor-made conference programme autoren@leipzig provides orientation for both professions. With numerous events, authors and publishers are invited to come together on equal terms for lively discussions about their experiences.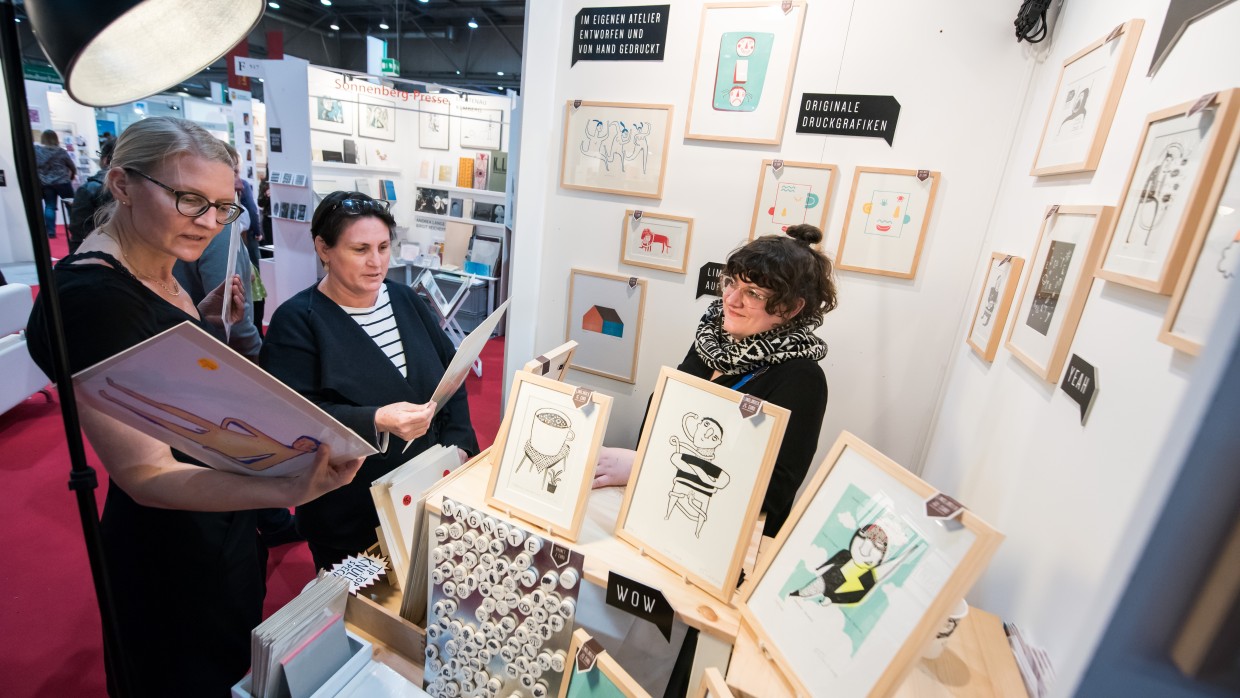 Book Art & Graphics
Aesthetically pleasing books and elaborate graphics are valuable cultural assets. Marvel at and purchase them at the Leipzig Book Fair: See limited edition artists' books, graphics, hand press prints and creative book projects. You can also expect inventively designed stands and unusual projects from art schools. An absolute must for art-lovers!
Audiobooks, Film and Media: Debates on the hot topics of the day are not confined to printed books, they can also be heard, seen or even engaged in with other participants. The digital world of the Book Fair lets you experience the latest developments in eBooks, audio offerings such as podcasts and audiobooks, as well as film and moving images – always with one finger on the pulse.
Leipzig liest ("Leipzig reads")
The city of Leipzig has been steeped in literature for centuries. Europe's largest reading festival celebrates this relationship every year and brings literature to numerous reading venues throughout the city. All to the delight of publishers, authors and literature enthusiasts.
Publishers have a stage for their authors and new literary talents. The Leipzig liest festival brings writers closer to their audiences and helps them gain new fans. Both newcomers to reading and long-time lovers of the written word will be able to experience literature and literary artists in personal conversations.
The world as a guest in Leipzig
Every year at the Leipzig Book Fair, more than 400 international exhibitors present the diversity and latest developments in the world of literature, often with surprising discoveries. Each year, a selected guest country takes centre stage and offers publishers, literature fans and the general public a special glimpse into the literature, language and culture of that country. The Leipzig Book Fair has its own translators' centre especially for translators.
The Guests of Honour, in turn, find a podium in Leipzig for a media- and publicity-effective appearance and an access point for sustainable literary mediation in the German-speaking world. In this way, their authors, publishers and literary works find their way permanently onto the book tables in Germany, Austria, Liechtenstein, Luxembourg and German-speaking Switzerland.